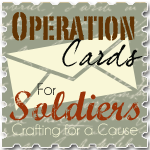 Have you heard about Operation Cards for Soldiers? I've shared about it on facebook, but also wanted to share here as I think it's a perfect, simple and meaningful project to get the kids involved in! We finished a fun stack of 26 cards to send and wanted to share our idea in case you'd like to try it as well.
We used blank index cards and the children decorated them with drawings, stickers, paint and personal messages.
This was great even for the 4 year old and they all had a blast! Especially understanding where these cards would be going.
We then put the drawings into photo Christmas cards.
And Voila! Before you knew it we had a festive stack of cards sure to bring lots of cheer!
You can join in too!
And I leave you with this. Hulk. Apparently he too brings tidings of joy....at least according to my 6 year old. :)
Happy Card Making!