There are so many great sew alongs, exchanges and fun projects to participate in around our creative community. Rarely am I able to take part due to the fact that I actually DO have to sleep and feed my family sometimes! ;) But when I saw this project posted over at
Morena's Corner
, I knew we were in! Aside from the fact that I absolutely LOVE the idea behind it, it's something I can do along with my kids each month at the same time as the others in the crafty community taking part! :)
The project.....CAKE - Crafty Acts of Kindness Everywhere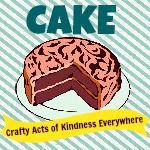 First up, Morena taught us how to make Modge Podge window clings for a heart bombing....how fun is that right??? And who knew you could make your own clings with Modge Podge anyway??? Well, my daughter had a blast making these! The simple recipe is over at
Morena's blog
. And they really work!
We originally had big plans of being prepared enough to take a bunch with us to some appointments we had so we could randomly "bomb" all over town....and well, we just didn't get them done in time. So, instead, my daughter enjoyed "bombing" each of her siblings bedrooms for Valentines, and they all loved them! :)
If you'd be interested in having some CAKE fun, just click that little cake image above in the post or on my sidebar and it will take you straight over to the details.
We can't wait to see what's up next! :)
Thanks for a fun idea and inspirational project Morena!